The most straightforward salary & incentive survey around is open through July 15, 2020
Boost your industry
Contribute with hundreds of respondents, broken down by industry and assets size, including national medians 140+ industry-specific benchmark positions and 10+ hot IT jobs.
Save time and money
Our survey takes a fraction of the time the others do, and participating saves you $400 when the results are available. We currently expect results to release in September 2020.
Emerging Trends
With new questions about contemporary topics, such as gender pay equity, internal minimum wage, and remote work, we've built the foremost tool for identifying emerging trends in the financial industry.
Safe with us
Your data deserves the best protection. We encrypt it with the same 256-Bit SSL technology your members, and millions of others, are used to in their mobile banking apps.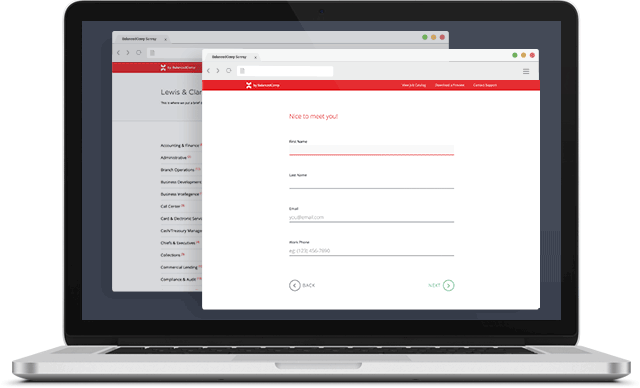 Form meets function
Experience is everything
You deserve the best, so we built an app that's modern and beautiful, but also easy to navigate. It's the best of both worlds.
Covering the bases
Real topics that lead to competitive decision-making
HRIS/Payroll
PTO
Turnover
Health Benefits
Budgeting
Retirement 401(K)
Retirement SERP
Internal Minimum Wage

New!

Gender Pay Equity

New!

Remote Work

New!
Purchasing the results
Participate and save big!
Save $400
$495
Participation Purchase Price
Releasing September 2020
$895
Non-Participation Purchase Price
Releasing September 2020
Purchase results from previous years