According to data published by CUES recently, it really pays to be a credit union CEO. The message they shared in an email announced a shocking increase in base pay and bonuses for the chief executive position…but one the industry at large won't substantiate.
"From 2014 to 2015, CEO salaries showed an average 23% increase in base and nearly 29% increase in base plus bonus," reported CUES. It's not certain how they arrived at this number, but we want to set the record straight and ensure your organization is operating with only the most accurate data. There should be greater sensitivity on the subject, considering there has been much scrutiny by the public in recent years on CEO compensation universally. The NCUA has even announced that it is going to once again turn focus to fair and reasonable CEO compensation.
That's why I can absolutely guarantee that these 23 and 29 percent increases are completely off base. Those numbers are entirely too high, and should raise a flag for you, too.
For credit union CEO base salaries, the midpoint increased across all asset sizes an average of 1.45% to 2.01%.
That's what our data found from 2013 through 2016. The consistency from year-to-year and across asset peer groups is worth noting. Nothing about this data, or any other I have seen, would support a 23% increase in base salary or in bonus.
Total pay for CEOs increased only 2% in 2015, according to Willis Towers Watson.
"Total compensation for chief executive officers (CEOs) at the nation's largest corporations increased modestly last year, driven largely by weaker corporate and stock market performance, flat bonuses and lower pension values, according to a new analysis of proxy disclosures by Willis Towers Watson."
Here is BalancedComp's evidence.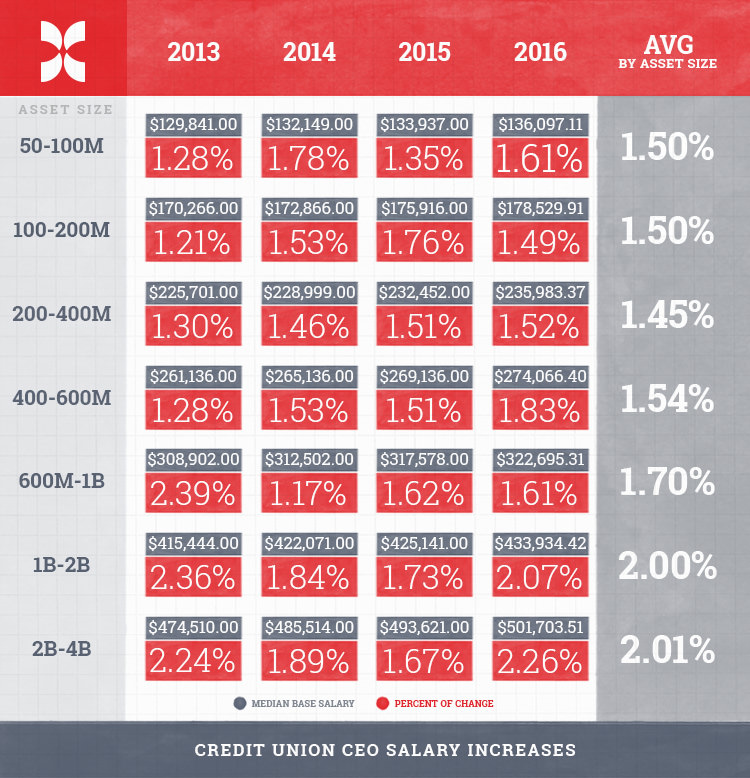 Our midpoints are developed by blending data from credit unions and banks. The most irrefutable data is that we have 100% of the IRS 990 data from all CEOs at state chartered credit unions. No one I know of is embellishing their salary numbers for the IRS.
We recommend all credit unions pay competitive to the market across the board, and especially the CEO level, to attract and retain talent. Remember that more than just your members' brows will rise if salaries or incentive data jump by double digits.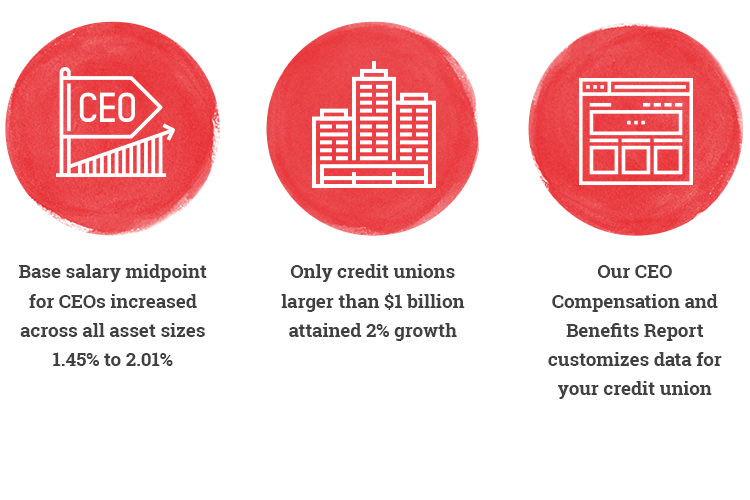 What Should I Pay My CEO?
We'll send a custom report to you in little more than a day. Answer five simple questions and we'll accurately assess your CEO's salary and incentive pay. Save 50% off the $495 fee by using CODE R5XH4M. Or call Christie for a complimentary consultation at 316-927-2668. Click here to get started: