Research tells us again and again and again and again that taking a lunch break is important. An honest-to-goodness break. Walk away from that desk, and let your self think (or not think) about anything.
Observe International Picnic Day
This week, on June 18, the international community will celebrate meals al fresco, and we think you should too. The benefits are greater than just one lunch in the park. Science says so.
To help, we've put together a little package to help you celebrate.
Let your coworkers know where you've gone.
Print this sign (click here to download it) and hang it up on your computer screen before you leave the office for your lunch abroad.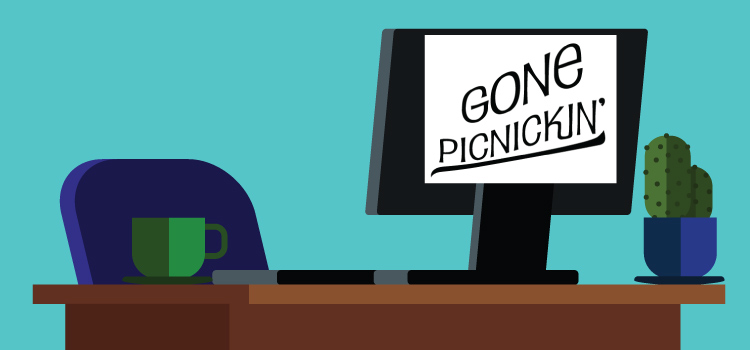 Can't leave your desk?
Make a mini picnic wherever you are. What do you need for a successful picnic? A basket and a blanket. You can totally make these two things with just the stuff around you.
Fold your own picnic basket
You don't need to have a black belt in origami to follow these simple steps on making your own basket.
After you've folded your basket, it's time to:
Print yourself a blanket
Click here to find our printable blanket (complete with cut-out ants). Then enjoy your chicken fricassee at your desk or on your breakroom table. When someone asks what you're doing, ask them to join. A picnic is something to be shared.
Be sure to let us know how you celebrated. Post a comment below, or take a picture of your picnic and email it to us.