How much are banks and credit unions paying Mortgage Loan Originators? How do pay levels at your organization compare with industry averages? We sought to identify a typical commission structure for the Mortgage Loan Originator position by way of a short survey issued in February 2016.
Forty respondents from banks and credit unions responded and shared some interesting insight on compensation for this common position.
While this survey showed a midpoint on base pay of nearly $40,000, we believe institutions that pay a much lower forgivable draw drove this number down. Other surveys typically indicate the median base pay is closer to $45,000, with a Senior Mortgage Loan Originator/Officer having a midpoint of $55,000.
It is commonly recognized that variable pay is a significant piece of this position's total cash compensation. Almost half of the respondents indicated a two-tier commission structure based on levels of production.
There is a demonstrable difference between how credit unions and banks pay this position, even though they both compete for the same talent, with banks paying a higher range of commissions.
CREDIT UNIONS
For credit unions, 72% revealed that they pay between 25 bps and 40 bps on the first level of production. The second level of production threshold is rewarded with a commission up to 50 bps. Credit unions with a forgivable draw or hourly wage paid as much as greater than 71 bps.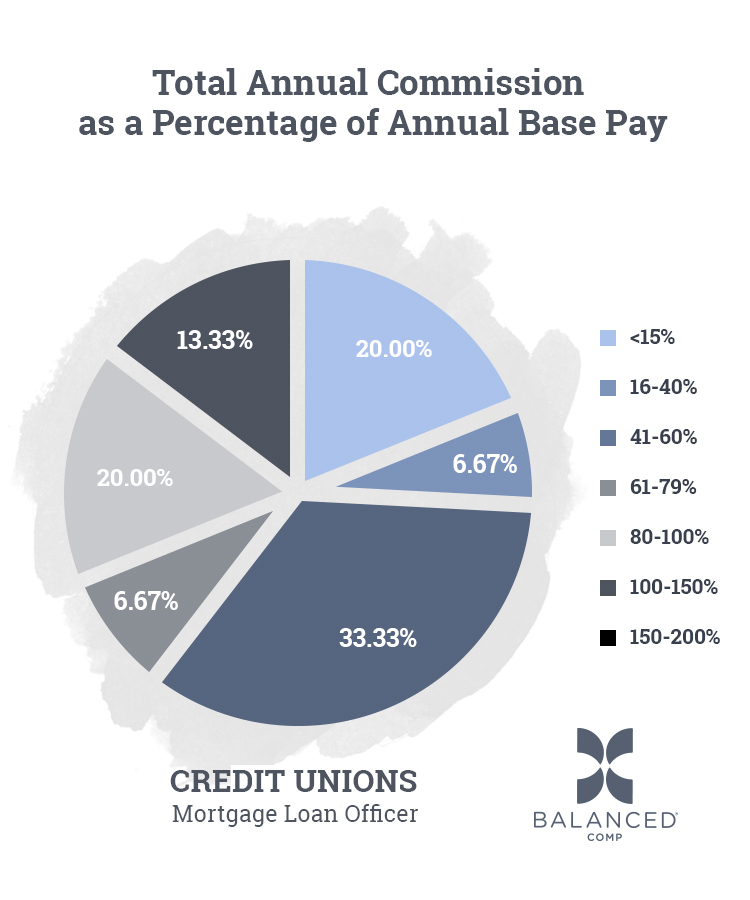 The most common commissions equaled 41% to 60% of base pay.
26% indicated commissions that equaled 61% to 100%.
13.33% indicated commissions that equaled 100% to 150% of base pay.
No credit union indicated commissions that equaled more than 150% of base pay.
BANKS
The variation between commission structures for banks was more volatile than with credit unions. Fifty percent of banks said they paid between 25 bps and 40 bps, with the remaining participants paying greater than 61 bps.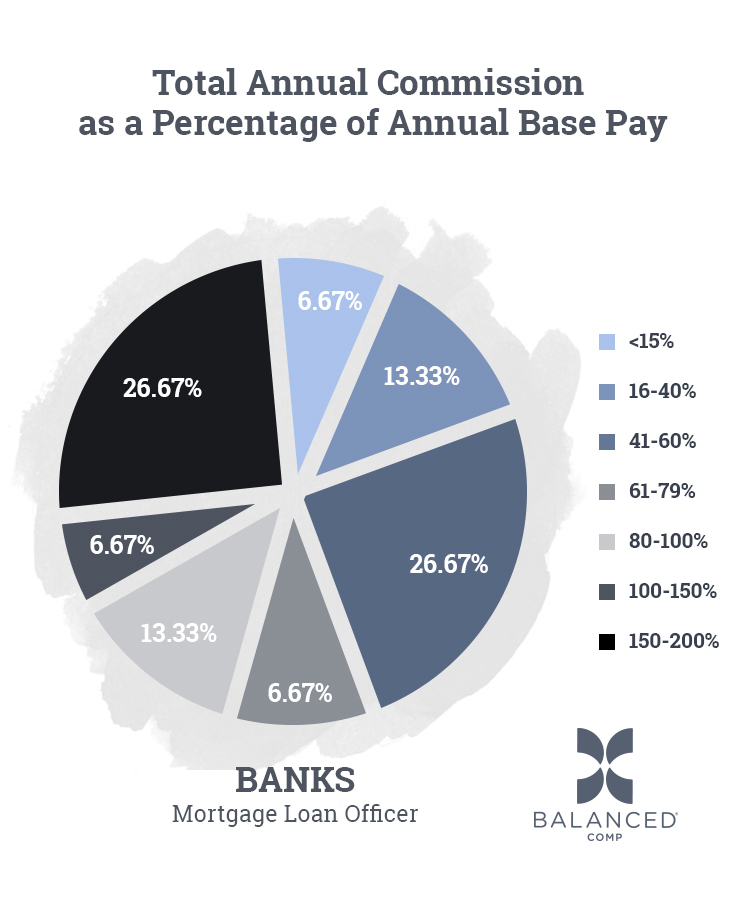 53.33% indicated the commission payout was between 60% and 200% of the base pay, perhaps indicating that more use a small hourly wage plus commission or total commission model.
20% of bank respondents indicated that the commission payout was equal to less than 40% of base pay.
26% pay commissions equal to 150% to 200% of base pay.
There are a few organizations that pay no incentive bonus to this position. The complexity of complying with the new TILA/RESPA Integrated Disclosure reporting may have discouraged them from doing so.
The overall median cash compensation for the mortgage originator was between $71,000 and $86,000.
While we expected to find clear evidence of the average commission structure, answers were all across the board. Regardless of whether the organization paid a higher base and no or lower commission, or a lower base and higher commission, the overall median cash compensation for the mortgage originator was between $71,000 and $86,000.
As trusted compensation partners who exclusively focus on financial institutions, we are able to reveal the median base pay and incentive pay for benchmark positions in the financial industry. BalancedComp intends to continue compiling data to more accurately define the most base-to-variable pay ratio.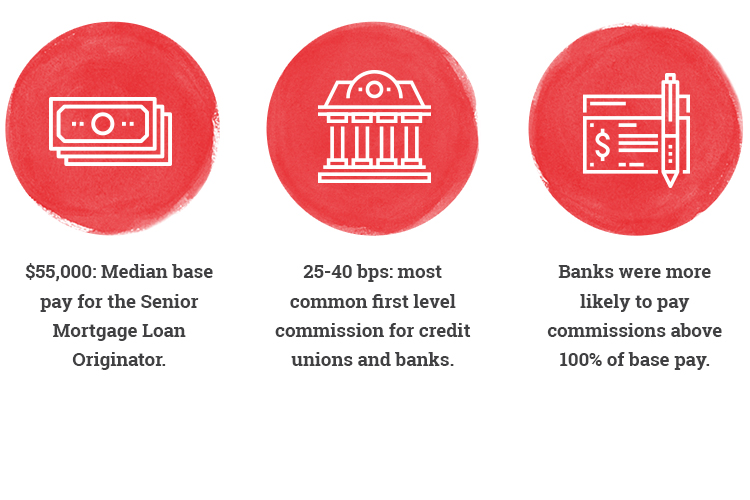 While you're here…
Take the 2016 Base Salary Survey Now