The Changing Landscape in Tech Salaries at Financial Institutions
By Christie Summervill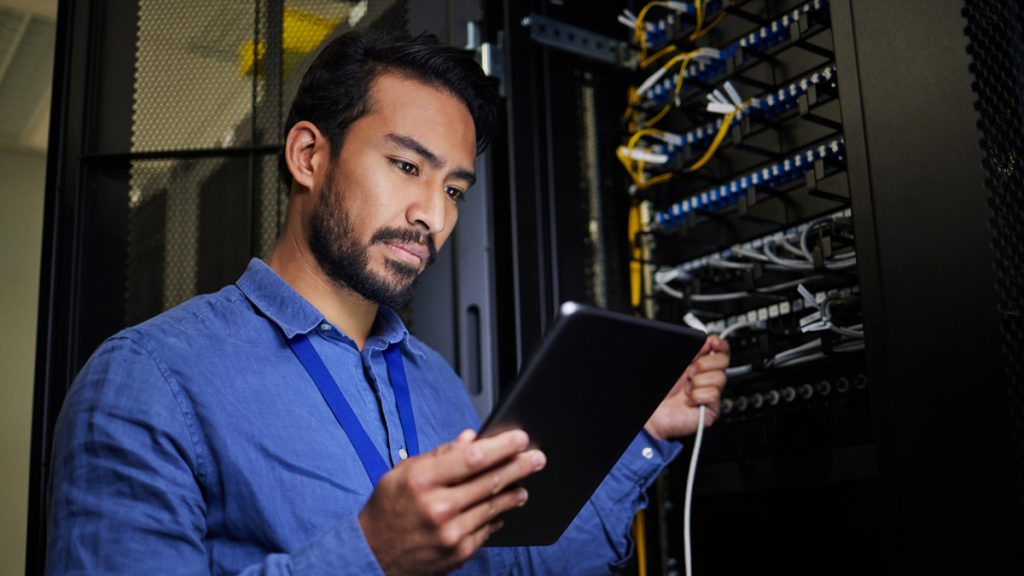 As the U.S. continues to innovate and push the boundaries of what's possible, the demand for skilled professionals in the tech industry is skyrocketing – much like the Falcon Heavy rocket. Buckle up as we deep dive into the hot jobs fueling this growth.
The United States is home to some of the largest and most successful IT companies in the world, such as Google, Apple, and Microsoft. Regardless of a financial institution's asset size, it will compete with large companies for top-tier IT talent capable of implementing evolving technology strategies. From 2000 – 2020, most exempt-level IT salaries moved year over year twice as fast as positions in the market at large, making it difficult to stay competitive to the market and requiring higher salary increases to attract experienced talent. According to the 2022-2023 BalancedComp Salary & Incentive Survey, IT Business Analysts, CIOs, Help Desk Specialists, and Systems Administrators were four of the 30 fastest-growing salaries last year with salaries increasing from 7.0% – 17.0%.
IT Tech Salary Benchmarks
According to recent Janco studies and data, total mean compensation for all IT Professionals increased from $95,628 to $98,480. However, this figure varies greatly depending on the specific job title, location, experience level, and industry. For example, a software engineer in Silicon Valley can earn well over $180,000 per year, while a help desk technician in a smaller town may earn closer to $40,000 per year.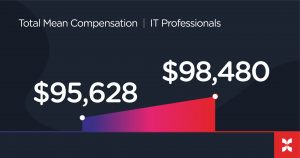 One of the highest-paying positions in the IT industry is a Chief Information Officer (CIO), with an average salary of around $178,000 annually. This is followed closely by IT Directors, who earn an average salary of around $130,000 per year. These salaries can be pushed much higher when Senior Software developers who report to them are offered $150K – $220K to switch employers. Other high-paying positions in the IT industry include data scientists, software architects, and cybersecurity experts. Demand has remained highest for IT professionals who support Security, Blockchain, Work From Home (WFH), and e-Commerce.
Location is a significant factor when it comes to IT salaries. The highest-paying cities for IT professionals are typically in California, particularly in the Silicon Valley area. Other high-paying cities include Seattle, New York, Boston, Boulder, and Austin. However, with remote work, IT professionals can now live in less expensive cities and work for companies in these hot markets. This is one reason why many HR professionals add a 10% premium to their midpoints for hot jobs such as IT, Cybersecurity, and Data Analysts.
Additional Factors to Consider
Experience level also plays a role in IT salaries, with more experienced professionals earning significantly more than entry-level employees. For example, a software engineer with five years of experience can earn over $150,000+ per year, while a software engineer with less than one year of experience may earn closer to $60,000 per year. In terms of coding languages, there are several that command high salaries.
According to a recent survey by Stack Overflow, developers who specialize in languages such as Scala, Go, and Objective-C tend to earn higher salaries than those who specialize in more common languages like Java or Python. Title hyperinflation is not uncommon in technology positions. One example is titling positions that pull data into reports using Sequel ("SQL"), such as a Software Developer or Engineer. Even if incumbents occasionally write code for a third-party API, it isn't perceived as the same level of mental complexity and can lead to overpaying.
The industry in which an IT professional works also affects their salary. Surprisingly, salary levels in mid-sized enterprises are rising faster than in large enterprises, according to the Mid-year Janco survey. The highest-paying industries for IT professionals include finance, healthcare, and technology. However, recruiting is likely to take place from all industries which can require you to modify a salary structure built for a credit union or bank.
Banks and Credit Unions are No Exception to Market Rate Salary Increases
In recent years, there has been a growing demand for cybersecurity professionals, and this trend is expected to continue. As more companies store sensitive data online, there is an increased need for professionals who can protect that data from cyber-attacks. As a result, cybersecurity professionals can earn significantly higher salaries than other IT professionals, with an average salary of between $120,000 – $170,000 per year. Once a bank exceeds $1B in assets, this professional often is given 1 or 2 exempt-level information security analysts to support their efforts.
Often a new incumbent is paid competitively to the market when they first accept employment, but the average salary increase for a bank or credit union is too often not kept in pace with the salary movement to remain competitive. While these employees are very team-oriented and tend to value both their coworkers and the software/applications they work with, falling behind in compensation often causes them to visit one of the many social media sites they frequent and leads to another job offer.
IT salaries in the United States vary greatly depending on various factors such as job title, location, experience level, and industry. The trend in rising technology salaries in financial institutions is not expected to slow down anytime soon. As financial institutions continue to invest in technology to improve their operations and stay competitive, the demand for skilled technology professionals will only continue to grow. Not paying competitively to the market will be "the worst money ever saved" and is likely to lead to higher turnover, because there will always be another company committed to innovation who is willing to pay more.
Back to Blog